The Department of English Language and Literature held its wonderful annual conference June 13, 2016, in which the students of the course "Rhetorical Skills Theory & Practice" presented a Reader's Theater rendition of excerpts from the book The House on Mango Street by Sandra Cisneros.
In this course, students learn about Aristotle's theory of persuasive appeals and rhetorical devices, how they are manifested in a wide selection of iconic speeches, and prepare those speeches for public readings and recordings, in which they are assessed for aspects of their oral readings such as pronunciation, appropriate reading pace, correct phrasing and emphasis of words, and overall prosody. These are all essential skills for future teachers who spend their days communicating verbally with their students. The peak of this process was manifested in the Reader's Theater event at the conference, for which the class has been preparing during class -and outside it- for weeks.
 Reader's Theater is a form of oral reading in which the reader's voice conveys all the meaning of a text with minimal use of props, costumes and other theatrical elements. (Those we used can be seen in the photo.) As their lecturer/director I am pleased and proud of their accomplishment: lively, nuanced readings of the text excerpts, making them come alive for the conference audience, who clearly enjoyed the show.
Nancy Peled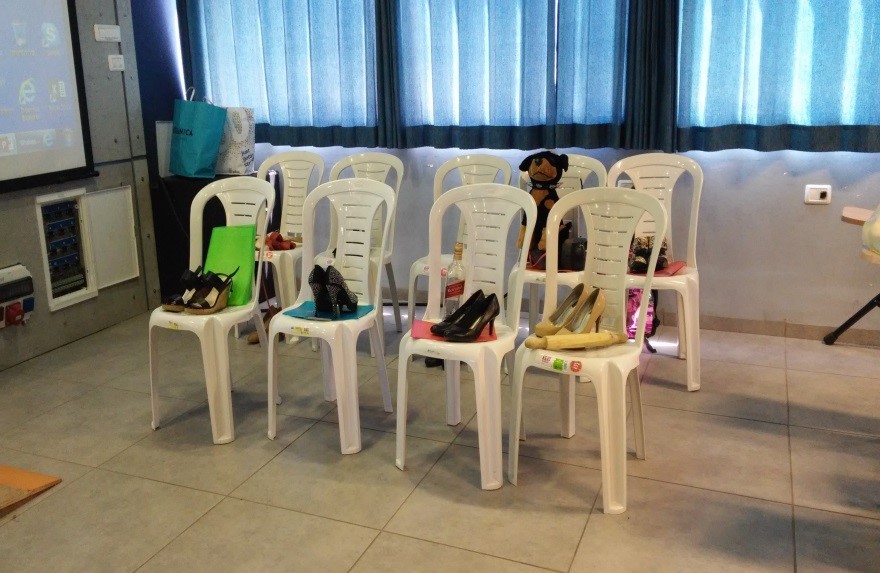 Click on the link below to hear the students' reading  from The House on Mango Street.
http://www.icast.co.il/PlayerWin.aspx?file=http://pod.icast.co.il/5a3946a1-fc14-4e7a-83a7-430c29ac985d.icast.mp3&IndexID=525498&name=iCast&ViewAll=1